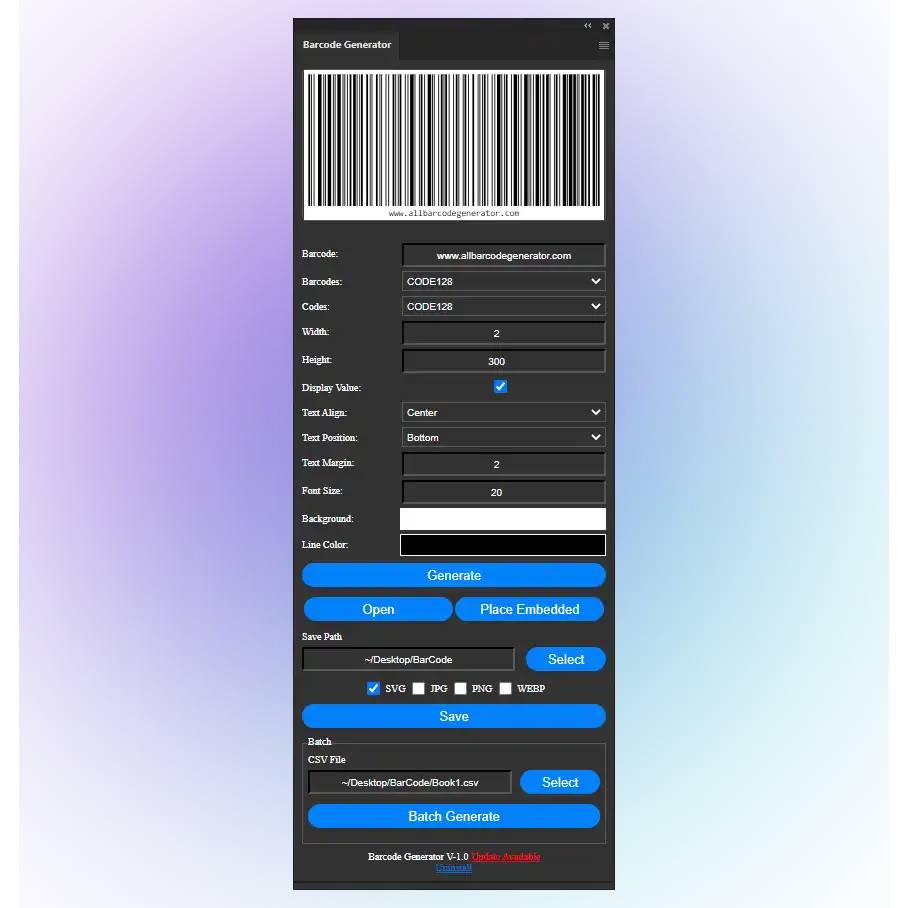 In today's fast-paced digital age, where information exchange and data management play a pivotal role in various industries, the need for streamlined and efficient tools cannot be overstated. Whether you're managing inventory, tracking assets, or enhancing customer experiences, barcodes have emerged as a fundamental component. This is where the Barcode Generator software steps in – a powerful solution that empowers businesses and individuals to effortlessly create, customize, and export barcodes in a multitude of formats and types.
The Power of Barcode Generator: Versatility and Functionality
Barcode Generator is a comprehensive software that caters to the diverse needs of industries that rely on barcodes for efficient data handling. With support for a wide range of barcode types, including CODE128, EAN-13, EAN-8, EAN-5, EAN-2, UPC-A, UPC-E, CODE39, ITF (including ITF-14), MSI (including MSI10, MSI11, MSI1010, and MSI1110), Pharmacode, and Codabar, this software ensures that you have the right barcode for every application.
Key Features of Barcode Generator:
Multiple File Formats: Barcode Generator understands the importance of flexibility in the digital age. That's why it offers compatibility with an array of file formats, including SVG, JPG, PNG, WebP, ai, and indd. This flexibility ensures seamless integration into your workflow, regardless of your preferred design or sharing medium.
Support for Adobe Suite: For graphic design professionals, Barcode Generator is a game-changer. It seamlessly integrates with industry-standard software like Photoshop, Illustrator, and InDesign. This allows designers to effortlessly incorporate barcodes into their creations, enhancing visual appeal without compromising functionality.
Batch Creation from CSV: Efficiency is paramount, especially when dealing with large datasets. Barcode Generator takes the pain out of bulk barcode creation by allowing you to generate barcodes in batches from CSV files. This feature not only saves time but also minimizes the risk of errors when dealing with extensive data.
Diverse Barcode Support: No two businesses are the same, and Barcode Generator understands this. Whether you're in retail, manufacturing, healthcare, logistics, or any other industry, the software's extensive barcode support ensures that your specific needs are met, making it a versatile solution for various applications.
Online Barcode Generator: Offered as an online tool, Barcode Generator allows quick barcode creation, making it accessible anytime, anywhere. No software installation required.
Affordable Excellence: The Price Point
Adopting cutting-edge tools shouldn't break the bank, and Barcode Generator exemplifies this philosophy. Priced at a one-time payment of $20 for lifetime access, this software proves that efficiency and quality need not come at an exorbitant cost. The affordability of Barcode Generator means that businesses of all sizes, from startups to enterprises, can access the advantages of streamlined barcode creation without straining their budgets.
Seamless Support and Engagement
Barcode Generator not only focuses on functionality but also places a premium on user engagement and support. The software provides clear contact information for inquiries and feedback, making it easy to address any concerns or seek assistance. Additionally, its integration with social media platforms and the inclusion of an affiliate program indicate a commitment to building a community around the software's usage.
Transparency and Accountability
In a world where data privacy and legal considerations are paramount, Barcode Generator goes the extra mile to ensure transparency. Its legal section encompasses a privacy policy, disclaimer, and terms of use, reassuring users that their information and rights are respected.
In conclusion, Barcode Generator emerges as an indispensable tool for businesses and individuals seeking a comprehensive, versatile, and affordable solution for barcode creation. With support for a wide array of barcode types, compatibility with multiple file formats, integration with Adobe Suite, and the ability to streamline batch creation from CSV files, this software has the potential to transform the way industries handle data and streamline their workflows. Its commitment to user engagement, affordability, and adherence to legal standards further solidifies its position as a standout barcode generation solution in a competitive market.