Bulk Mockup Generator Photoshop Script plugin Extension. - Bulk Mockups Filler
Bost Your Mockup Creation Process Using Bulk Mockups Filler!
Now Using Bulk Mockups Filler, Automatically Replace Smart Object Content Perfectly in Any Adobe Photoshop Version Like Car, Cap, Wall, Frame, Canvas, T-shirts, Designs, Billboard, Book cover, Product Box, Phone Cases, Anything And Everything...
Unlimited Mockups at a time
The unlimited Design image at a time
5 Resizing Options
6 Alignment Options
3 Output Options (PSD, JPG, PNG)
Auto Output Folder By Template Name
Auto Output Folder By Save Option
Life Time Access
Lightning Fast Mockup Creation
Super Easy to Use
Works with all kinds of Mockup Templates
Supports Major File Formats
Lifetime Access
Incredible Post Purchase Support
Get Life Time Access For Only One Payment of $40

Doing Mockups Manually is Frustrating
Online Mockup Generator
The Free ones aren't any good. The paid one is so slow. You wonder why you pay a subscription when it makes your life so miserable.

Isn't it so many steps
You upload Design, Resize, Save, Export! then Repeat it million times. For god's sake, you are Generating Mockups not sculpting Michael Angelo's David.
Growing Business becomes a pain
With your business growing. Your design collection grows, along with the pain of generating mockups for those designs.
Photoshop & PSD Template
It takes hours and hours to generate mockups using photoshop. Thought of automating via recorded actions. AHHHg ! Actions doesn't work
Exporting is a nightmare
You open the Smart Object layer, Replace design, Save as Jpeg, one by one! & Then you Repeat it until you feel that your Landlord is so much less annoying.
Multiple templates make it more complex
Having multiple mockup templates adds to the agony. Your files and folders are in complete chaos.
How Bulk Mockup Filler Can Save Your TIME, LIFE, MONEY, ENJOYMENT
Now Using Bulk Mockups Filler You Will Generate 10000 of Mockup in few min and I'm sure it will save your Most of time and Bost your income.
Auto Replace Smart Object layer
Bulk Mockup automatically replaces smart object layers in a Photoshop (PSD) mockup template. It keeps all the settings, applied filters, displacement maps intact.
Lightning Fast Mockup Creation
Bulk mockups are capable of generating 100 mockups in less than 30 seconds. Sounds unbelievable? See it to believe it
Generate Unlimited Mockups
Entrepreneurs have used Bulk Mockups to create 50,000 mockups in a single day. Imagine the scale at which Bulk Mockup can operate.
Saves You Time
Bulk Mockup will save hours and hours of your invaluable time. Which you can invest in a task that matters to your business.
Organized files and folders.
The exported mockups are diligently organized in logical folder structures. It gives you complete peace of mind when everything is organized and arranged.
Incredibly Simple to use
Bulk Mockup is very simple to use. Even a kid can operate it. It's an EASY three Step process. First, you prepare and arrange files. Second Start Bulk Mockup & Finally third You Sit back & RELAX.
How To Use Bulk Mockups Filler
Step 1: Prepare PSD
Make Sure that Your PSD Mockups Have Atleast 1 Smart-Object Layer. And If you Are Going To Run Batch Mockups then your all Mockups Replaceable Smart-Object Layer Name Must Be Same. For Example "Design".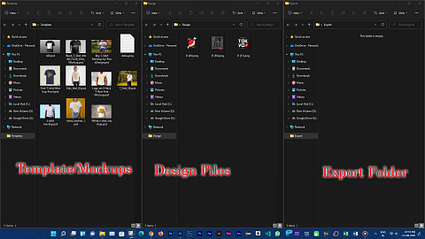 Step 2: Prepare Files
First Create 3 Folders. Keep your PSD mockup template in one folder. Design Files on the second folder and Create third folder to save the the final exported mockups.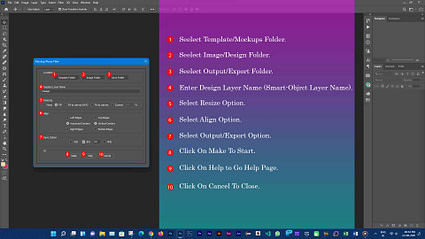 Step 3: Run & Input
Run The Script And Input Parameters Like Folders, Resize options, Alignment and Output Options.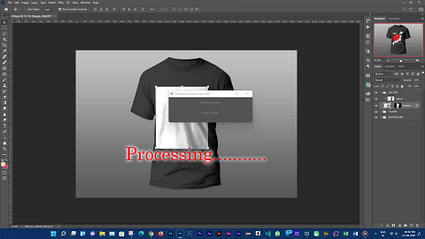 Step 4: Click On "Make"
Finally, Click on "Make" to start the process. Bulk Mockups Filler will start generating mockups for you. You can see the final result by visiting the output folder.

BULK MOCKUPS FILLER IS LOADED WITH INCREDIBLE FEATURES TO MAKE YOUR LIFE EASIER
COMPATIBILITY
Works with all kinds of mockup templates with smart object layers. T-shirts, Phone Cases, Wall art, Mugs, totes, Posters, etc.
FILE FORMATS
Supports major file formats including SVG, AI, EPS,PSD,PSB,PNG,JPG,JPEG,RAW,TIF,TIFF, etc.
SELECT LAYER BY NAME
Select Design Layer With Custom Layer Name From Multiple Smart-object Layer.
5 RESIZE OPTIONS
5 Resizing Option None, Fill, Fit, Starch, Custom.
6 ALIGN OPTIONS
Align The Design In Anywhere you Want with 6 Align Options.
3 OUTPUT TYPE
3 Output Options you can select 3 Type Output PSD, JPG, PNG.
Benefits of a Product Mockup
No matter what you sell, T-shirts, Phone Cases, Canvas, Wall art, Hoodies, Leggings, blankets, or any other Print on Demand products. You need a products mockup too.
1. Realistic perspective.
You — and others — will be able to see what your product will look like before it's produced. Whether it's an app, a product, or a huge city banner, a product mockup helps visualize the end result.
2. Early revisions.
Mockups will give you the opportunity to solicit feedback on your product before you produce it. Using mockups in this way can often identify issues in the design that need to be corrected before production. Another example would be for print-on-demand businesses, allowing sellers to show what the final design will look like on the product so changes can be made before printing.
3. Stand out from the crowd.
It's important to differentiate your store from the competition. To make a connection with your audience and to increase your conversions you need Product Mockups.
4. Drive Sales.
A visually realistic and appealing mockup compels your audience to hit the buy button.